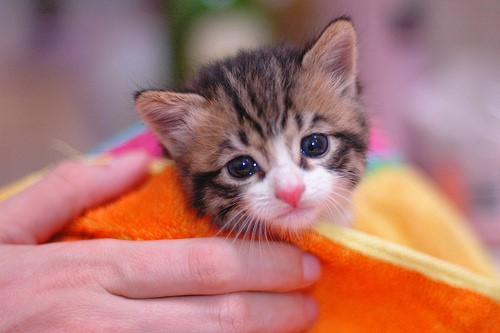 Q: Can my kitten get diseases from her mother?
A: Most definitely. They can get feline leukemia, FIV (feline immunodeficiency virus), and any number of parasites. The list goes on and on.
But because the test for FIV detects antibodies, kittens will sometimes test positive from the antibodies they receive from their mother, without actually having the disease. When they're retested at six months of age, most will be negative.
Q: How soon does my new kitten need to see a vet?
A: We tell our clients to bring any new kitten in within 24 hours of being adopted, just so we can make sure it's healthy and we can help them get it started on the right foot.
Kittens are actually more fragile than they appear, and problems can arise quickly. The big three things that we see are low body temperature, low blood sugar, and dehydration. When a kitten isn't doing well, those are the three reasons we usually see. And they're easy to keep at bay, by keeping them warm and being sure they're nursing or, if they're no longer nursing, being sure they're eating. And that's a problem we see. People will give a kitten dry food when they're very young and they don't have any teeth. They need soft food.
Watch For Early Signs of Illness
Young kittens are more susceptible to a number of illnesses, and it's always best to catch a health issue in its early stages. Contact the clinic immediately if your kitten displays any of the following symptoms.
Lack of appetite
Poor weight gain
Vomiting
Swollen or painful abdomen
Lethargy (tiredness)
Diarrhea
Difficulty breathing
Wheezing or coughing
Pale gums
Swollen, red eyes or eye discharge
Nasal discharge
Inability to pass urine or stool